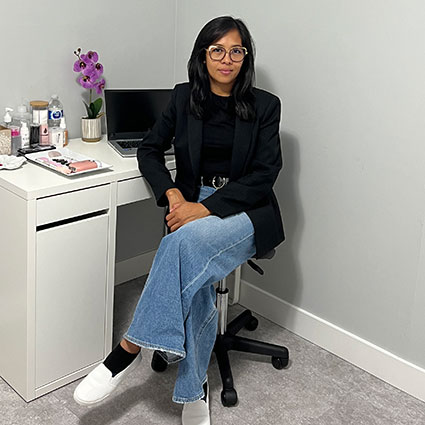 Esthetics at Iron Spine Chiropractic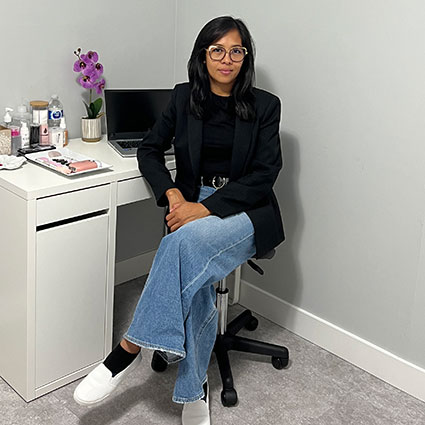 About Mona
Mona May is a Certified Esthetician and offers facials and EyeLash Extensions. Mona is also the wife of Dr Marty Spiller at Iron Spine Chiropractic. Together they make an awesome team because as Dr Marty helps clients feel their best, Mona May has a strong passion in helping people look their best! Mona has a passion for enhancing natural beauty and promoting skin health. She is a dedicated esthetician specializing in both stunning eyelash extensions and rejuvenating facials.
Mona's transformative treatments will leave you feeling refreshed, renewed, and absolutely radiant.
About Lashes
Elevate your look with eyelash extensions that will beautifully define your eyes without the need for mascara or lash curlers. Lash extensions add volume and length, creating a striking, yet natural-looking effect. With proper care,your lash extensions can last several weeks. Mona;s regular touch-up sessions will provide guidance on how to maintain your extensions for long-lasting results.
Classic Full set
This set is the most natural, giving the look of mascara but better! One extension per natural lash
Hybrid Full Set
This set is perfect for a little more fullness while still being natural! Mix of classic extensions and volume fans. Touch ups required between 0-2 weeks. Anything past 2 weeks will be considered a fill
Lash Extension Fills
Classic Fill
Fills are required between 2-3 weeks
Hybrid fill
Fill are required between 2-3 weeks
About Facials
Facials create radiant skin that makes you feel beautiful inside and out. Our facials begin with a thorough cleansing and exfoliation process, removing dirt, impurities, and dead skin cells. This promotes healthy skin cell turnover, leaving your skin looking fresh and revitalized. The gentle massage and stimulation during a facial can enhance blood circulation, which in turn promotes the delivery of nutrients and oxygen to your skin cells, resulting in a healthy, radiant complexion. Regular facials help maintain the health of your skin by promoting proper hydration, circulation, and collagen production.
---
Esthetics South Edmonton AB
|
(587) 938 2624